We supply consulting services on SCADA SYSTEMS
based on TANGO
TANGO Controls is a software toolkit :
 for connecting things together +
building control systems +
integrating systems
It is free , open source and object-oriented. It is easy to use and is well adapted to solving simple and complex distributed problems. TANGO Controls has been used to build solutions for;
Distributed Control Systems (DCS) in which devices are controlled and monitored in a local distributed network
Supervisory Control And Data Acquisition (SCADA) systems in which remote devices are controlled and monitored centrally
Integrated Control Systems (ICS) in which different autonomous control systems are integrated into a central one
Interface Devices that run on small embedded platforms into a distributed control system
Internet of Things (IoT) applications in which arbitrary devices are controlled through the Internet
Machine to Machine (M2M) applications in which devices communicates with each other
System Integration Platforms in which different kind of software applications and systems are integrated into a central one
TANGO Controls is operating system independent and supports C++, Java and Python for all of the components.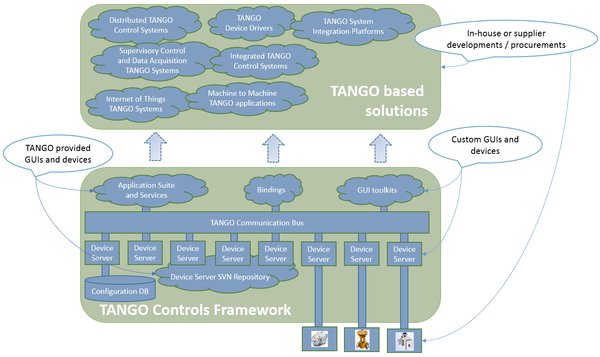 Tango Controls Architecture
The software is available on GNU Linux, Unix, Windows with full support for three different languages: C++, Java or Python